I've always found it cathartic to write this blog. In fact, I've always found it cathartic to write full stop. My diaries were the ideal way to get all my thoughts out of my head and in some physical form where I could see them and organise them and, most importantly, stop them clouding my mind. I didn't intend to write this post but I have so many thoughts swilling around and I need to get them out. So I'm writing this- a post dedicated to a man who brought so much joy into my life, even though I'd never met him- for that simple reason. There will be no promotion of it. No links on Twitter. No Facebook posts. I'm just dealing with this news how I always do- by writing about it.
I suppose I, like many other people of my generation, first became aware of Alan Rickman when he played Snape. As I grew older, and explored more of his work, I realised that he was someone special, but it was when I watched Sweeney Todd that I became a Big Fan. I mean, Johnny Depp was in the film and still I had eyes only for Alan!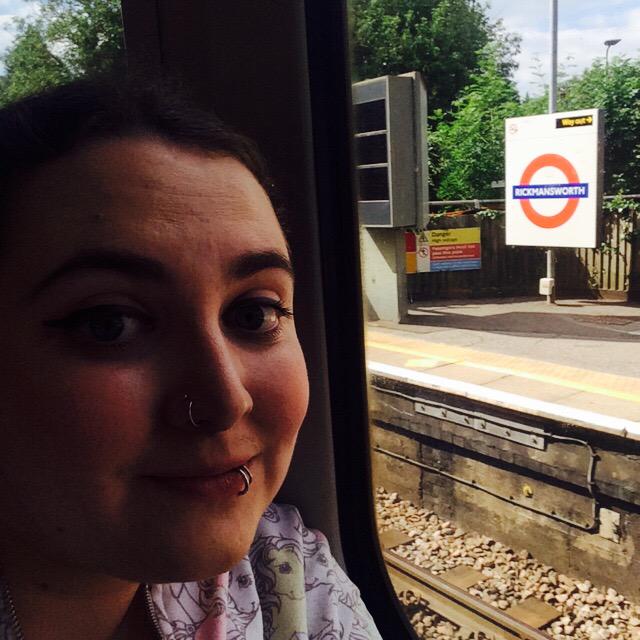 Obviously I had to take a selfie with the Rickmansworth sign.
My love for Alan became an injoke and then almost part of my identity. My best friend developed a (highly inappropriate) game called Would You Still Sleep With Alan Rickman If...? I probably don't need to tell you how to play. Before we went to LeakyCon, the Harry Potter convention, we stalked the profiles of the other attendees and found Vladimir- a Snape cosplayer. It became our holiday goal to get a photo with him and, on the final night, while loaded with a little too much vodka, we got that picture! In 2010, I made a friend from America after we bonded over our mutual love for him (the friendship was short lived but intense and I always found it funny how an actor neither of us had ever met could bring two people together so easily). People started giving me Snape-related gifts: My brother bought me Snape's wand for Christmas (the smutty overtones were very much deliberate), Leona gave me a Snape figurine for my wedding present. When we moved into our home, we called our wifi Alan, and people visiting for the first time would instantly know it was ours. My About page mentions him, one of my earlier posts- way back in June 2012- was dedicated to why I love Alan Rickman. In fact, as I found when looking for that post, just a Google of Becky Bedbug Alan Rickman brings up way more results than I anticipated! Not as many as searching @BeckyBedbug Alan Rickman on Twitter though. I'm amazed I never got a restraining order to be honest!
I'm a huge Harry Potter fan as it is but going to the Warner Bros Studio Tour was really something special. I completely fangirled over being so close to objects that Alan Rickman touched. I was THIS close to his wig! Actually, I got a telling-off for touching one of his costumes. I just couldn't resist! (Turns out I've been to the tour 6 times and each time I've devoted a huge portion of my post to Snape!)
So it is with a very heavy heart that I have learned of his death today. In some ways it seems silly to be so upset over the passing of somebody who I never knew, never even met. But Alan Rickman wasn't just somebody. He was a huge part of my life. There is no other celebrity- besides Gerard Way- who I adored as much and no celebrity death has ever affected me this much. It was my life's ambition to see him perform onstage and I always knew that was going to happen. Just a few years ago, he had a role on Broadway and I couldn't wait for him to finally return to the stage in London. Knowing that this will never happen breaks my heart.
Of course, it's easy to talk about Alan Rickman as if he and Snape were one and the same but there was so much more to his acting career than that. He was the Sheriff of Nottingham, who I would certainly not have resisted (especially not when the alternative was Kevin Costner!) He was the deliciously manipulative Judge Turpin. He was the caring, attentive Antoine Richis and a broken man in The Song of Lunch. Yet, in many ways, and for many people, Snape was everything.
Deaths of people so well-loved are always hard and often, as has been the case far too regularly in recent days, a great shock. But this one has hit home hard. Alan Rickman will live on in his many wonderful film roles- including the two yet to be released- and is immortalised for his acting talent, his Roman features and, of course, that voice. And, although he may no longer be amongst us, he will hold a very special place in my heart. Always.
Bloglovin' // Twitter // Instagram